Festival Hugs
Are the best-ival hugs
Professional Hugger Status Achieved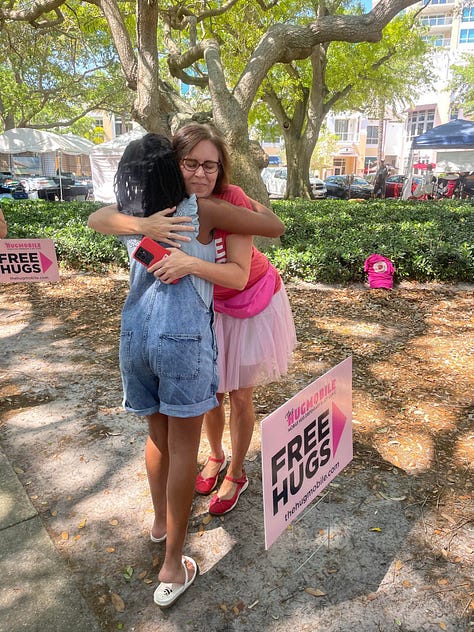 A few weeks ago, someone reached out to ask me how much I would charge to give out hugs at the 10th annual Awakening Into The Sun festival in downtown St. Petersburg. It's a health and wellness festival, and this person obviously understood that hugs are a big part of health and wellness. The fact that she didn't just ask me to do it for free gave me a huge amount of pride and confidence. I didn't realize it at first, but she was my Facebook friend and had obviously seen me posting about The Hugmobile and my upcoming appearance at the studio tour in my neighborhood.
I thought about it for a bit and gave her a modest but fair number, and she agreed. And thus was born my first paying hug gig!
I considered several factors about how I would like to do this, and I decided to keep it simple and just show up with my nice directional lawn signs. I also agreed to do it for only 2.5 hours each day.
Several things make it difficult to give hugs for longer than that. First, I'm on my feet the whole time. In my opinion, free hugs don't work well if you're seated. It's about being alert and ready to hug! And second, you often get coated in other people's perfume and cologne, so after a few hours my attempt at having a neutral scent for people is futile. Plus, it also is a lot of energy exchange that tires me out (even if the energy exchange is good… and it was all good).
I hugged in the afternoon on the first day of the festival and in the morning on the second. I took a Lyft to North Straub Park each day so I wouldn't arrive sweaty or have my bike to keep track of. (And forget about parking a car!) I found a nice spot on the vendor route the first day, set up both directional signs pointing at myself from either side and waited with a smile on my face.
I think my neighbors at the festival enjoyed watching my interactions with people… and animals. I had some warm conversations with people who were so happy I was there. Some people took my photo, and most of them sent me copies on social media. Because I give out stickers with a QR code on them, people can find me online later when they're home.
I walked the 8 blocks or so to take the bus home the first day and was asked for hugs by some strangers along the way.
The second day was just as wonderful, and I treated myself to a delicious veggie crepe and frozen coffee on my walk to the bus stop.
It was truly an amazing weekend and proof that people see the value (even the monetary value) in what I do.
Keeping Score
I bought this clicker because someone I went on a date with said his friend goes to festivals (just as a festival goer) and gives free hugs and counts them with a clicker.
I'm writing a short book about my hugging endeavors, and one of the things I just wrote that I really stand by is that I'm not keeping score. I don't care if I haven't hugged more people than someone else. Or given the longest hug. Or hugged the most people in an hour or a minute.
The more I thought about this clicker, the more icky I felt about using it. I was reducing all these beautiful humans I was hugging to a number. Quantifying something the value of which cannot be quantified. So I'm going to give the clicker away or find another use for it.
Stay tuned for more updates on the book I'm writing about hugging! I think you're going to love it, and I aim to publish it, ideally, in the fall. Pre-order will be available in a few months.
Rebranding
I'm doing some rebranding, and you may have noticed that the title of this newsletter has changed to The Joy Clinic.
For hugs and stuff, I'm moving toward the Quirky Hug Lady as a memorable moniker because it's more family friendly than Crazy Sexy Elsie and has a better feel to it for more occasions. My new Instagram handle for hugs is @QuirkyHugLady.
I'm going to try to use up all my existing printed marketing materials before ordering new ones, but that's the direction I'm going.
When the time is right, I hope to re-start my Sunday Morning Joy videos OR start a new podcast with someone.
Selling my Camper Setup
I have loved my camper setup, but I'm selling it. I hate camping alone, and I would like to use my car for other things right now (like as a hugging booth at festivals!). So if you know anyone with a 2014 or later Ford Transit Connect LWB wagon, please send them this link to Craigslist. I'm anxious to get it gone!
https://tampa.craigslist.org/pnl/rvs/d/saint-petersburg-camper-setup-for-ford/7597078179.html
Happy Anniversary!
It just came to my attention that I have now been writing this newsletter for TWO WHOLE YEARS as of this month. I've missed a week here and there, but that's an impressive commitment. Way to go, me!
Thank you all for being on this journey with me!
Currently
Writing! I'm trying to get back to writing every day like I did when I was writing Howard Hoax last year.
I'm (not) looking forward to my first colonoscopy in a few weeks. Send your thoughts and prayers that I don't starve to death on that prep day.
I'm feeling warily optimistic about this decade. Maybe I can make a noticeable difference after all and increase the radius of my influence.