Birthday Year
Planning for a year of fun has begun!
My 50th year fun started with the trip to Maui, and I want to keep the adventure going all year. I've already had one outdoor adventure since getting home: a sunrise kayak. Although I felt totally crippled the next day, you can't beat this sunrise! Plus, my guide got a photo of me and a Roseate Spoonbill!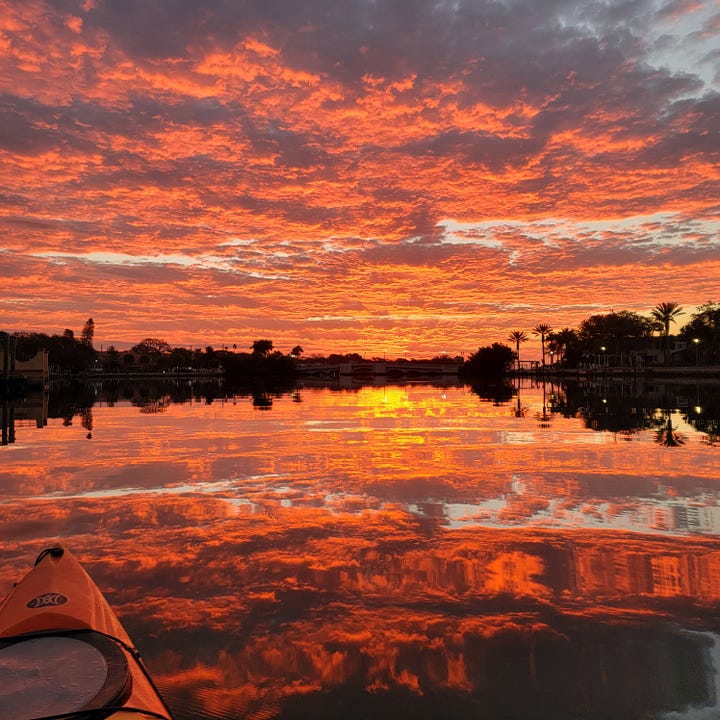 My goal is to kayak enough so I don't feel crippled after every time!
I also just scheduled 3 yoga classes because I'd like to do that more. One is scheduled for my birthday morning. I'm trying to find a few fun things to do that day, which will culminate in dinner with friends that night.
I'm also planning to meet with my coach/consultant soon to talk about my plans for this year. I want to set meaningful goals and have a plan to accomplish them.
Some things I want to do more of this year: yoga, kayak/SUP, reading, hugging, writing, speaking!
How to Live Longer
I am totally stuck on the podcast SmartLess that stars three of my favorite actors/comedians: Jason Bateman, Will Arnett, and Shaun Hayes. I'm still catching up on all the old episodes.
Their guest on one episode was David Sinclair, a Harvard professor in the Department of Genetics. He talked about how to live longer and that eventually we should be able to halt or reverse aging in humans. He wrote a book about it. (Please buy local.)
What should we eat? Dr. Sinclair himself is now a vegetarian if that tells you anything. Also, in the 2013 Adventist Health study, it was calculated that vegetarians live longer than non-vegetarians. Additionally, in a study on women, the Mediterranean diet (mostly vegetarian with some fish) decreased biological aging.
Mr. Sinclair said that any human can extend their life by avoiding disease. Some of the ways he said you can avoid disease are:
Eating a mostly plant-based diet

Eating less (skipping meals, intermittent fasting)

Eating less sugar, less meat, and more plants increase longevity

Being hungry sometimes (Buddhists say to eat until you're 75% full)

Exercising 4x a week

Getting your heart rate up
He was very clear in that many diseases are triggered by bad lifestyle choices.
Living longer naturally is great, but creating a pill that can reverse cellular aging or make humans live longer in general has moral and ethical consequences.
Many older humans live in poverty, sometimes out of a vehicle (not by choice), lack healthcare, and/or are marginalized by society. How can we even consider increasing longevity without first addressing these issues? And, if your answer is that only the rich will be able to afford these drugs, then you're raising another ethical question.
Writing and Speaking
Someone reached out to me recently about speaking at a conference for girls and women in Vermont. I don't have all the details yet, so I'm trying not to get too excited, but this speaking engagement would be in line with the goals I have for this year. It will be something very exciting and terrifying for me. (I have terrible stage fright.) But I know I could prepare well enough to do a great job.
Plus, once I write this speech, I would shop it around to other groups to see if they'd like me to give it at their event. And it ties right in with the book I want to write (and publish) this year. It also ties in with The Hugmobile.
Needless to say, I'm anxious to firm up this engagement as it will motivate me to take other important actions.
Healthy Food
I gained a few pounds in all the wrong places during and since the holidays and am anxious to get rid of them.
I'm focused on cooking at home as much as possible, using fresh veggies from the farmers market.
I baked/roasted cauliflower for the first time recently because I wanted to do something different than steaming it. I happened to have some maple syrup, so I used that, and it came out great! I also drizzled some syrup on my leftover salmon when I heated it up. Delicious!
Currently
Enjoying some new technology with an Alexa Echo Show 8 and an Echo Dot, plus two smart bulbs. I'm hoping they will add structure, more music, and a little levity to my life. I'm sure now that I've adopted them, the technology will change to something else! 🤣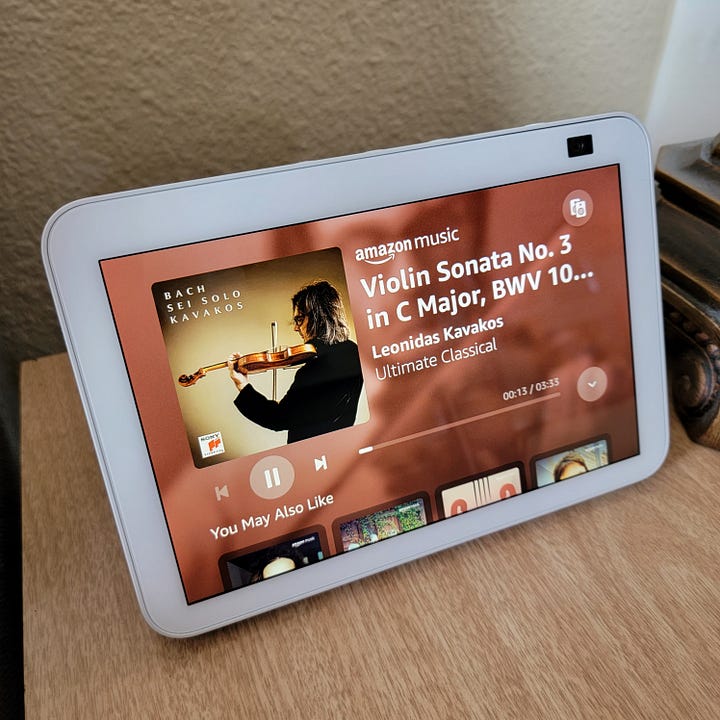 Doing some major cleaning/organizing in my apartment. Getting rid of things and looking forward to the decluttered results. One thing that made me jealous of my Maui friend's condo was that, while the same size as my apartment, it had a HUGE amount of closet space. I've got hardly any.
Getting my finances settled after the excess spending of my trip.