Getting Older and Stuff
It's not for the faint of heart
Dressing for Myself
Ladies (especially single ones), you know what I mean when I say I am often dressing for men. Sometimes men I'm dating have the audacity to tell me what to wear, but usually I'm just self conscious about how "attractive" I look in whatever. I've never been too overly concerned about undergarments, but I've worn the same style of underwear for like two decades. I know, I can't believe they still make it. It must be really popular. They're Vanity Fair brand and are STILL available on Amazon.
However, I've also, for the last decade, had two pair of "sporty" underwear that I bought at Eastern Mountain Sports. They are SO comfy, and I do find them attractive on me. Sadly, they stopped making them, and I've never found similar… until now.
I will be the first to admit that I am susceptible to Facebook and Instagram ads. What can I say… they really KNOW me! Many times I will click through to see if the ad I'm being shown is for a good product, and recently I clicked through to an ad for underwear that looked super comfy. They looked like the sporty ones from EMS.
Don't get me wrong… I've seen other sporty underwear, but the waistband has to be just right for it to feel good on. I ordered one pair of these underwear, from a company called Boody (of course). Folks, they are so damn comfy. (Bonus, they are allegedly environmentally friendly.)
They are not AS attractive as the EMS pairs, but WHATEVER. Am I going to choose underwear based on what some guy who doesn't exist right now might think? Hell no. I ordered two more pairs.
(The only thing about these I didn't like was the giant tags in the back which did NOT come off with the simple rig of a string. I had to methodically cut them off.)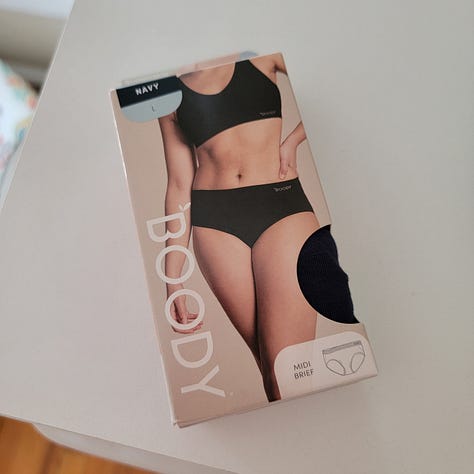 Taking Care of Your Stuff
Part of being a minimalist and not owning a lot of stuff is the time that is freed up from not having to maintain all those "things". Things need cleaning. Things need fixing. Things need protecting. All that time (and money) adds up.
I made a commitment to do more kayaking and/or paddle boarding this year, and I considered buying an inflatable paddleboard. I don't have space for a regular board because I live in an apartment without any outside storage.
I did a bunch of research into brands and pricing, but I also researched the maintenance. You need to dry an inflatable board before putting it away. So I'd either have to do that at the water or take it home with me and lay it out somewhere. I don't really have space for that and would not want to pull a musty/moldy paddleboard out from storage.
It costs me around $50 every time I take a kayak tour, and that includes rental. If I paid $800-1000 for a good quality inflatable board and electric pump, that would equal 16-20 tours/rentals. That's more than once a month for a year. Am I planning to do more than that this year?
I decided to wait a bit because I do have access to go kayaking, just not with as much flexibility as I anticipate I might want. Let's see how this year plays out.
Here are some other things I already have to maintain: my car, my bicycle, cleaning my ceiling fans, my cat's litter box, my cat's health, laundry when I don't have laundry facilities, my plants, my teeth, my digital equipment, dusting, constantly cleaning the hair off my furniture, my health, my Berkey water filter, and, of course, my business!
Aging in the Spotlight
I've talked about aging and how unfair it is that women are judged so much more harshly than men. That issue is not helped when people with a huge platform like Madonna distort their face with plastic surgery to avoid looking their age.
People are saying any critique of her is ageist, and that is a huge pile of bullshit. I'm frankly worried about the mental health of anyone who would do that to their face. Just like I was when Michael Jackson had so much rhinoplasty that his nose fell off.
If she was truly worried about ageism, she would use her platform to show other women that you can be vibrant at any age without extreme modification. (Like so many other female celebrities do.) Frankly, she can do whatever she wants to herself, but when people comment on what appears to be botched plastic surgery, she can't claim it's ageism.
And are men trying to stay "beautiful"? Why do we even need to do that? Can't we be old and wise like men? Can't we transcend the need to be attractive for others and just be confident in the knowledge that we are loved and respected for who we are?
There's nothing rebellious about plastic surgery.
Let's not turn people into heroes for things that don't warrant it.
Currently
I'm feeling cranky and anxious about some things, probably made worse by PMS.
I'm trying not to focus on all the negative forces working against me and many people in the world right now, namely financial and political.
I've started seeing my coach/consultant again and am excited about what she can help me accomplish this year!